Bekah writes I Prefer My Puns Intended, which is a blog detailing the life and times of a wife, mother, runner, former and future ninth grade English teacher, and part-time fashion enthusiast. The titles of her blogs may be cheesy, but the content gets feta. Sorry. Better. Enjoy her experiences attempting to get OOTD with a four-month-old in thirty minutes or less.
It is my understanding that nothing good happens at five in the morning.
It comes as no surprise that when my little boy woke up screaming at that early morning hour, his nursery was not a friendly place.
I let him cry for a few minutes, hoping upon hope that he just had just startled himself awake…but when the crying persisted, I knew. He had pooped through his pajamas, sleep sack, and onto his sheets.
'What is it about babies,' I thought through my morning fog, 'every time there are big plans for the day, they have their own agenda at night?'
After changing him and his sheets and getting the sweetest of smiles (which of course makes every early morning wake up call totally worth it), I laid him back in his crib for a few more hours. Today was sure to be a long, but wonderful day.
I have recently decided to resign my position as a ninth grade English teacher. It was one of the toughest decisions I have ever made, but totally worth it. I am so grateful to have the opportunity to have mornings like these, and get to spend the rest of my day playing with my little guy. Two of my best friends just had babies really close to B Bear's birthday, so we had our first weekly 'playdate' scheduled for today.
So…what happens when you wake up at five in the morning and have very little time to shower; you have hair a day past washing; and you have to prep your infant for a day full of play?
First, two cups of coffee happen.
There are a few things I never had to think about B.B. (before baby). First, I never had to plan out hair and earring choices according to how much losing either would hurt. I never anticipated thinking about worst case scenario colors, or clothing that withstands the all-day stretch test. Now, I don't get dressed without thinking about the practicality of each hairstyle, makeup, and outfit choice.
Practicality in hairstyle starts with hygiene. Cue my good friends, dry shampoo, the wet brush (voodoo magic for ladies with fine, tangly hair) and a rubber band: otherwise known as the mommy hair trinity. I suppose it was a good thing my hair had a little extra dirt to hold an updo. After all, have you ever tried to play with a grabby four month old with super long hair? I will give you two guesses as to why hairbands are a new essential in this mommy's repertoire. I am betting both of your guesses are right. Ouch and ouch.
I decided to do a french braid to test out how it may look. The results were a bit too…Lara Croft.
After vetoing the simple french braid, I decided to loosen my braid up a bit on top and twirl into a side bun. Much more practical for a playdate with three babes under six months. I use the Goody's Spiral Pins to get an all day hold. This entire hairstyle took about five minutes to complete.
Mommies, remember the days when you had all day to spend on make-up? Remember those glorious moments when you would tell your husband to wait just a few more minutes as you perfected the smoky eye? There is a part of me that misses those nights, but I have certainly gotten my makeup down to a science. It takes me five minutes to get from tired to glamour mommy. I try to stay minimal and clean as most of my outings include bottles of milk rather than beer these days.
I hate to admit this, but my husband walked into the kitchen the other day and asked why I was so "dressed up." Sadly, I was wearing a t-shirt and jeans. I used to love styling outfits…and still do. I just style less frequently. Oddly enough, an Al Horford Jersey isn't exactly the hottest must-have piece this season. Instead, I wanted to go for a nautical look. My only consolation was that I was going to dress myself in Hawks colors: red, white, and blue. The result was…ok, but not exactly the clean, nautical look I had in mind.
I realize I am a mom, so what I am about to say sounds rather snobby, but I felt much too much like a mommy in these digs. The shorts were hitting me in the wrong place, the blouse was a little too drapey. My solution? Change the outfit, but keep the inspiration. I realize that white jeans aren't a popular mommy choice, but I have found that it is much easier to bleach out stains than to treat them on patterned fabrics. Plus, these Juicy couture jeans withstand the all-day stretch test.
In total, I spent fifteen minutes getting myself ready.
Then, it was onto my little guy. Who can resist this face!?!
Like any true fashion icon, Bennett had a few outfit selections for this particular occasion. What I have really loved about dressing a baby boy are the simple separates that can be mixed and matched with just about anything in the wardrobe. We layered a Mud Pie Chambray Shirt (which was a part of a three-piece summer set) over a custom onesie from Littlest Prince Couture and paired with some plaid Carter's shorts. We also had a navy anchor romper on deck just in case….pun intended.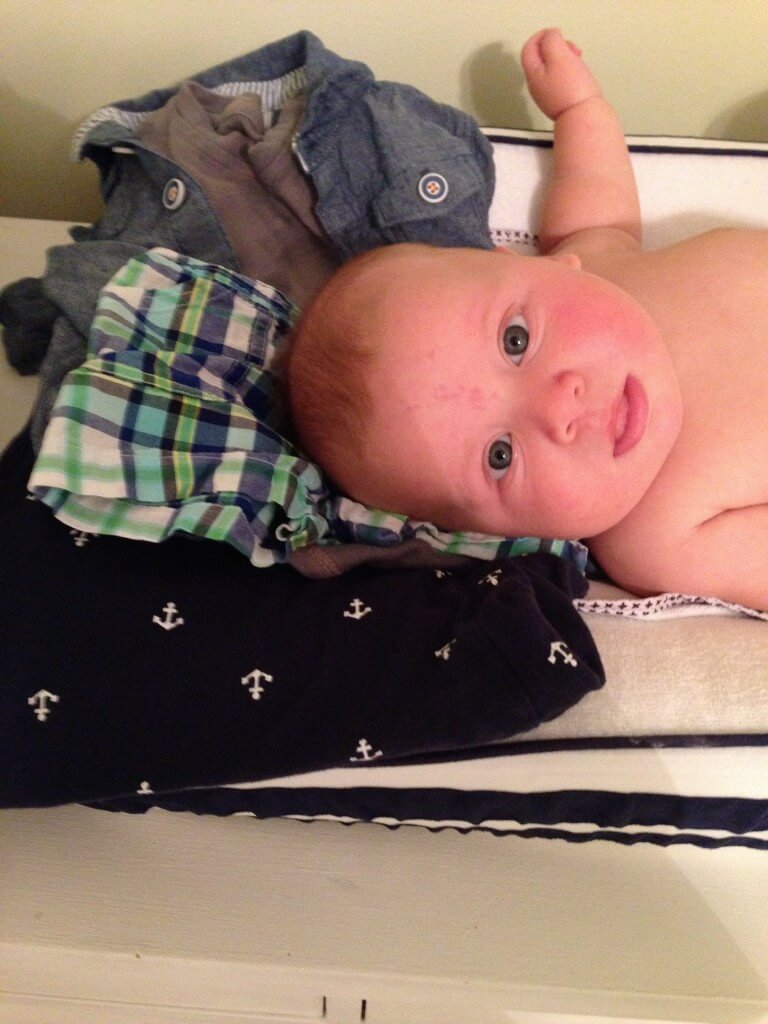 It is a good thing we ha a second outfit, because in the five minutes it took for us to get to our playdate, he had another surprise waiting for mommy. I just chalk it up to him wanting to flex his fashion muscles.

It may take a little longer, but it is totally worth it to get OOTD with your baby boy (or girl).