As a kid, I could always depend on two things in the summertime.
First, I was sure to squeeze both of my feet into one fin in the pool and pretend to be a mermaid. I got pretty good at holding my breath. So good, in fact, I had convinced myself that I was actually becoming part mermaid.
The second thing I could always count on was one solid day on Lake Lanier with my whole family. Every summer, for one magical day, we would rent a boat from early in the morning until late at night: tubing, skiing, and playing on small islands to our hearts' content. We would arrive about seven a.m. wearing swimsuits and slathered with sunscreen bearing sandwiches and plenty of snacks, and almost certainly leave about 7 at night sunburned and tuckered out. There is something about being on a boat now that takes me right back to those sun-drenched days. Thus, it comes as no surprise that Bennett's first day on my parents pontoon boat required a special outfit for this very sentimental and special occasion.
My first thought? Lollipops and Lemondrops.
I have been very open about how sensitive I am to dressing Bennett like a little boy: nothing smocked or too cutesy. It has been difficult, but I think I have succeeded in making sure he is comfortable and dapper. Lollipops and Lemondrops is the perfect balance of special occasion and especially practical for your little ones. The owner, Kelli Bollman, specializes in individualized apparel that is one-of-a-kind for little boys and little girls. Not only does she ship these goodies to you, but she also has a line of party goods (cupcake toppers, invitations, banners, thank you notes, and favor tags) that will make your little one's party their own. She takes the hassle out of everything that can keep you from enjoying this sweet time with your little guy or baby girl.
I requested the sailboat design on a cotton romper (our summer favorite) as I thought it'd be perfect for our first outing on the boat. I realize I am biased, but seriously…how ADORABLE IS HE!?!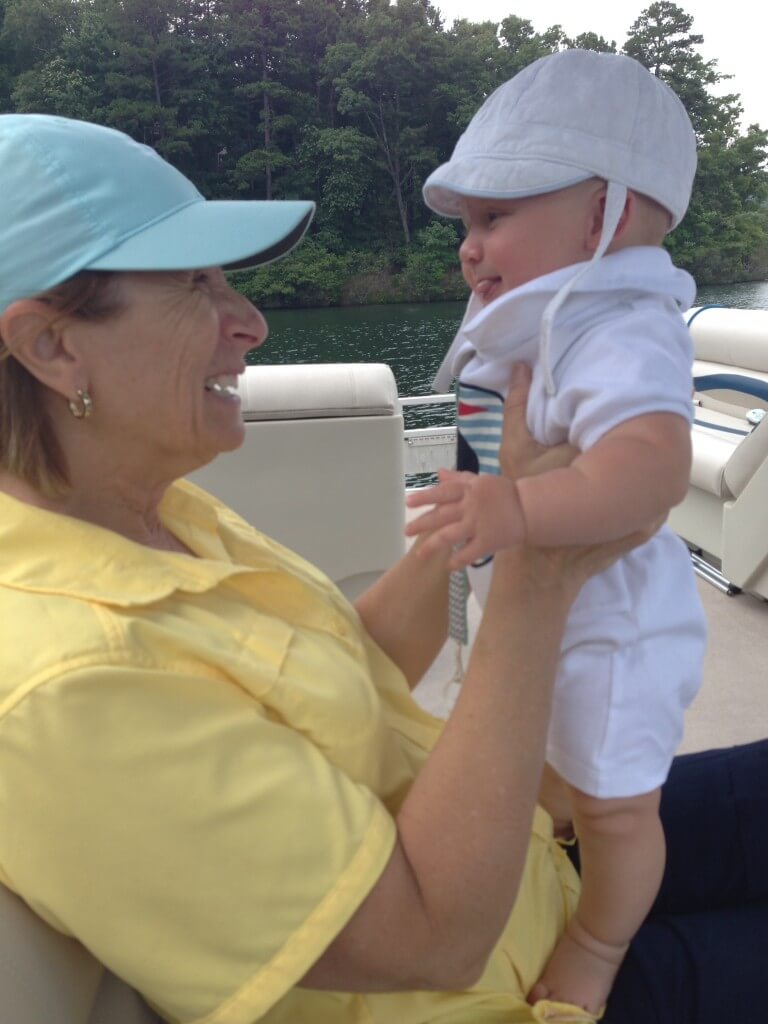 This romper was absolutely perfect. A light, breathable summer cotton romper is a must for moms of boys and girls, and summer is filled with firsts: first fireworks, first popsicles, first family reunions, or a first trip to the pool or beach. I searched high and low for a fourth of July outfit…it is not easy taking a little one to the mall, mind you. I have a hunch it may only get more difficult as Bennett gets older, or he gets a sibling. It is easy, however, to visit the Lollipops and Lemondrops website. The sailboat design arrived exactly how it appeared on the website. The romper was even better than I could've imagined. The little button pocket flaps and rounded collar were the perfect addition to the design. Best of all? The outfit is a special, one-of-a-kind piece…but my little guy can wear it throughout the rest of the summer as it is casual enough to wear again.
So, after my first L&L outfit experience, what did I do? Call me "that mom," but I pre-ordered Bennett's Christmas jammies from Lollipops and Lemondrops. This cannot be overstated: I. Can't. WAIT. to see my little boy dressed up in his jammies and ready to open gifts for the first time. I just know these will be a perfect investment for his first Christmas.
My advice to seasoned, new, or soon-to-be mommies…'like' Lollipops and Lemondrops on Facebook immediately. Not only does Kelli develop new designs for each season, but she advertises giveaways and specials almost daily. AND…Georgia moms, rejoice! Lollipops and Lemondrops is relocating to Atlanta! This makes this ATL mama so VERY happy. The shop will be undergoing re-branding soon as well. I can't wait to see what is next for L&L.
Speaking of giveaways…I am so excited to announce I Prefer My Puns Intended's very FIRST giveaway by Lollipops and Lemondrops. Stay tuned for details on how to enter and win. Trust me, the mommy who wins this giveaway is the luckiest mommy ever!