I've decided that Christmas is much more fun when there are kids around.
I think every adult gets to the point in their twenties or thirties when they realize that Christmas comes whenever they need it to come. What I mean by that is we have a paycheck; we maintain a budget; and we can buy those socks when we need to buy them. Getting gifts is still exciting, but not quite what it used to be. Christmas was decidedly much more exciting when we had to wait for our gifts…am I right?
I distinctly remember asking my parents for an easel for Christmas: the kind with the white board, chalk board, and a roll of drawing paper. I guess there was always a part of me that wanted my own classroom, with my own dry erase markers, and my very own sticks of chalk. I wanted that gift so badly that my sister woke me up in the middle of the night and we snuck a peek at our Christmas tree.
…and there, beside the most beautiful tree in the land was the most beautiful gift in the world: my very own easel. The warm glow of colored Christmas lights made my gift look even more beautiful.
Fast-forward to, oh, five years ago, and you will see me racking my brain for figuring out "what I want" for Christmas. It was difficult to create a wish list when my only desires were to be gainfully employed, happily married, and adequately rested. And oddly enough, no one in my family could find these at a department store.
But what happened in December of 2008 would change my adult Christmases for the better: my first nephew Jack was born.
Suddenly, Christmas gifts became fun again. We started musing about what baby Jack would like and what fun he would have with a new toy. It wasn't about racking our brains for what to get for our adult siblings…it was about the fun and wonder of the season. It became about the experience of Christmas, and teaching little baby Jack about why we give gifts and showing him that as much fun as presents are, there is a gift far greater than them all: the reason for the season.
And now, in 2014, I have my own little nugget to introduce to this wonderful time of the year. And you know what? Despite the stress that the season can bring…I just can't wait.
I found this advent calendar and it really got me thinking about creating my own and starting new traditions with our little one. Here is a photo of the Painted Hive's Advent Calendar:
Isn't it GORGEOUS!? I am in love with the free printed pockets and gorgeous fabric. I am going to attempt to make this some point this week…It may be an epic failure…because, as awesome as I am (and I am totally rad), I'm not the craftiest blogger in the land.
I digress. Also, I can post pictures of my attempt to prove that I am no Martha Stewart…or Painted Hive…
I've also seen a few ideas about writing activities on the gift tags for each day before Christmas instead of simply having a countdown or scripture. These ideas from LDS living were some of my favorites.
And so, I've decided to create my own "Atlanta Advent Activity" calendar. Obviously, some of these will only be possible when B is a little older, but there is no harm in planning ahead :). Here are some of my ideas so far: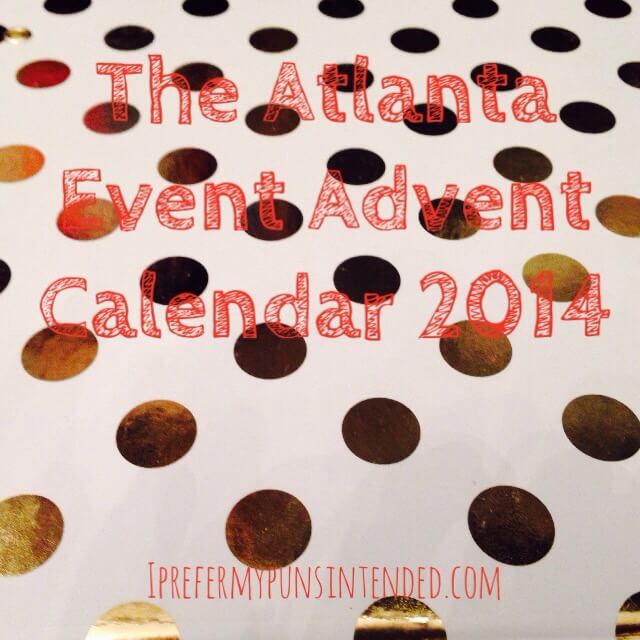 December 1: Make an ornament for the Christmas tree using baby B's handprint to hang on the tree.
Read Luke 1:66 Everyone who heard this wondered about it, asking, "What then is this child going to be?" For the Lord's hand was with him.
Teach about John the Baptist as it relates to the birth of Jesus.
December 2: Cocoa and Caroling at Callanwolde Amphitheater
December 3: Visit the Pink Pig (benefits Children's Healthcare of Atlanta)
Read Matthew 18: 3-5 "And he said: "I tell you the truth, unless you change and become like little children, you will never enter the kingdom of heaven. 4 Therefore, whoever humbles himself like this child is the greatest in the kingdom of heaven. 5 "And whoever welcomes a little child like this in my name welcomes me."
December 4: Have a Christmas movie Marathon (From LDS Living)
(No scripture here…this is just for fun 🙂
December 5: Bake Christmas cookies
Read Psalm 119: 103 "How sweet are your words to my taste, sweeter than honey to my mouth!" Teach about the goodness of Jesus and how sweet his grace and mercy is for us.
December 6: Go to the Atlanta Christmas Parade.
Read Luke 2:20 (When the Shepherds report what they've seen in the fields)
The shepherds returned, glorifying and praising God for all the things they had heard and seen, which were just as they had been told.
December 7: Have breakfast for dinner. (From LDS living)
(No scripture here…play Christmas Carols while munching on some sweets 🙂
December 8: Tour the Governor's mansion and look at the decorations.
Listen to Christmas carols on the car ride (of course)
December 9: Finger-paint a Christmas craft.
Maybe this, but with a taped out Christmas Tree.
December 10: Visit a nursing home (From LDS living)
December 11: Visit Santa Claus at Phipps Plaza
Tell baby B the story of Saint Nicholas, whose pursuit to follow the words of Jesus to sell what he "owned and give to the poor" still lives on through the symbol of Santa Claus.
December 12: Visit Snow Mountain
Listen to this gorgeous song on the way.
December 13: Visit the Atlanta Botanical Gardens Garden Lights
Read John 8:12: When Jesus spoke again to the people, he said, "I am the light of the world. Whoever follows me will never walk in darkness, but will have the light of life."
December 14: Go to the Peachtree Lutheran Church Living Nativity
Read about the birth of Jesus before in Luke 🙂
December 15: Visit Atlantic Station for dinner, shopping, and a picture by the Christmas tree.
December 16: Walk around Lenox Mall and take in the sights and sounds of Christmas.
December 17: L earn about the miracle of Hanukkah…and play with a dreidel and eat some Hebrew treats.
December 18: Shop for Toys for Tots and drop off at a nearby location.
Read Matthew 2:11 "On coming to the house, they saw the child with his mother Mary, and they bowed down and worshiped him. Then they opened their treasures and presented him with gifts of gold, frankincense and myrrh."
We give gifts to others as we would give gifts unto the Lord 🙂
December 19: Have a play date/gift swap with friends.
December 20: Drive around a few neighborhoods at dusk and look at Christmas lights.
December 21:Watch A Christmas Carol at the Alliance theater
December 22: Go to the High Museum and make a "snazzy Cezzane" Christmas card
December 23: Make luminaries for our driveway/front yard.
Read Luke 2:31: which you have prepared in the sight of all nations:
32 a light for revelation to the Gentiles,
and the glory of your people Israel."
December 24: Eat dinner at Pasta da Pulcinella (A Family Tradition)
December 25: Open gifts and enjoy Christmas songs ALL day 🙂
What's on YOUR event advent calendar?