This Christmas was by far my best Christmas. It was like being a kid again…only better. Holding my little boy on my lap as he tore through mountains of paper and played with brand new toys was so much more exciting than tearing through my own Christmas haul. He has been my favorite gift ever. It didn't take me long to realize that Christmas will never be the same again. Each year, it will keep getting better and better.
And, as I held my little guy in my arms this Christmas, it got me to thinking about my favorite Christmas as a little girl. That, along with a challenge from Patience Brewster, an artist and designer of Christmas ornaments and accessories, to share my favorite holiday memory
It was a clear, cool, dark, December night in Georgia. The year was 1994; I was nine years old.
Many of my friends asked for Barbies or dress-up clothes and other assorted girl wishes.
I took great care to be a good little girl that year. My interests spanned from playing school with my stuffed animals, to playing trophies with my cool older sister. My favorite thing in the world was my school of excellence (seriously). I spent most of my free time asking for extra homework and making sure I had straight E's on my report card (the highest mark available). After all, I had something special in mind; my very own puppy.
My nine year old sensibilities became obsessed with all things dog. I wanted to feed the dog (which I did very inconsistently); I wanted to walk the dog (which happened all of twice when I owned the dog). I also wanted to snuggle with my very own fluffy pup.
We finished dinner and it was a night like any other night. We were watching TV as a family in our living room. And then it happened.
"Come on, guys. Let's get in the car."
It seemed odd for all of us to pile in the car when it was so late. I looked to my sister quizzically; could it be?
My sister and I chattered endlessly about what this gift could be. I didn't want to jinx it yet, but I thought I spotted a dog crate in the back.
We pulled into a neighborhood I had never driven into. I didn't recognize the house. But the woman of the home was expecting us.
"Come on in! They are all downstairs." She looked warmly at my mother.
And there, behind a build fence were the sweetest black and white and brown and white puppies I had ever seen. Many of the pups rushed the fence, except for one: the smallest one. A tiny black and white springer spaniel who was more interested in napping than licking and jumping.
She was perfect. And she was mine.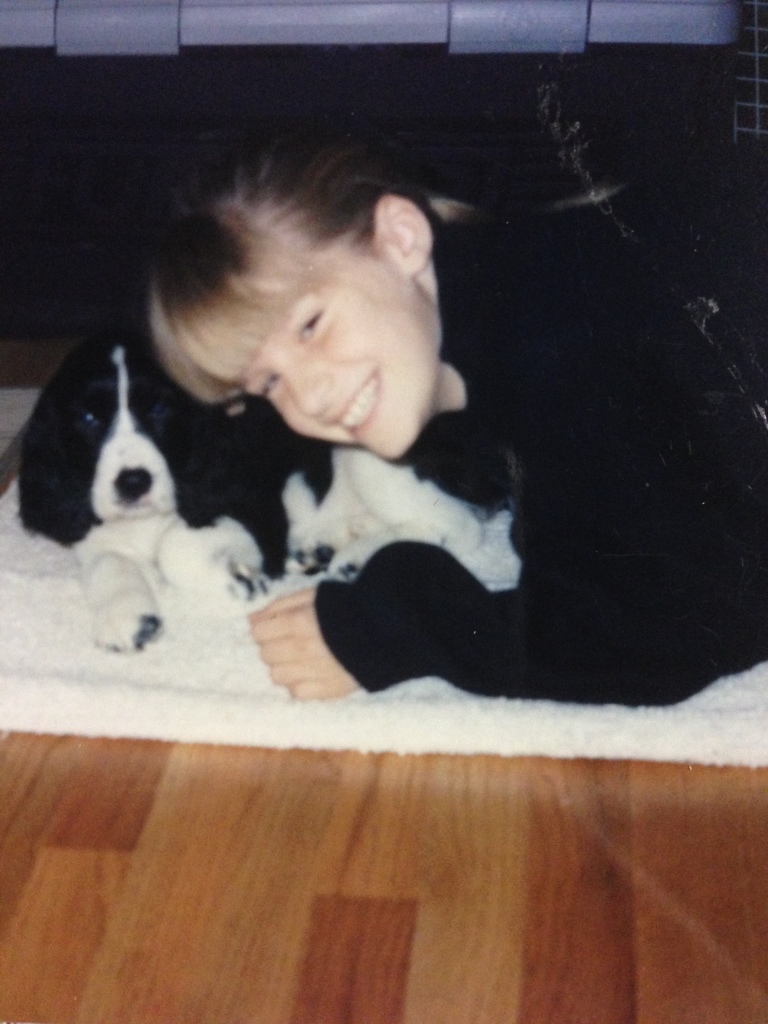 My family spent the car ride home tossing around perfect dog names.
"What about Holly?" I suggested. "It's Christmas-ey."
"What about Molly?" My sister offered.
We all agreed. And with that, we added Molly to our family.
We had her for seven years; we'd gone through a family move and all of my siblings had moved on to college. I moved from my childhood home to the mountains; I was homeschooled because of my crippling shyness and insecurities (as well as academic reasons). Molly was my only friend for a while. She was certainly my best friend.
But that Christmas Eve, my dad rushed my little puppy to the emergency vet. She'd had a freak fall and was paralyzed; and unfortunately she didn't leave the vet that day.
I was devastated. I lost my only friend.
Years had to pass before I felt happy during Christmastime again. But eventually, I was happy that I got a chance to love Molly for seven years. Even now, I can't get through a Christmas without thinking about how joyful the season was because of our Molly dog. I think about my parents and how excited they must have been to gift that puppy to us. I wonder if they knew: this is something they'll remember for the rest of their lives.
Because the truth is, one day we'll get to do this for our baby Bear (and sibling). This type of moment deserves a special ornament from Patience Brewster. Special ornaments are some of my favorite gifts, because they represent memories that are irreplaceable.
What is your favorite Christmas memory?