As a daughter of a pilot, I know a thing or two about the frustrations of air travel.
For starters, my family was never guaranteed a seat as we flew standby to our destinations. The gate agent always had to exercise a little creativity to fit our family of six in some proximity to each other. We learned to pick the early flights; it was best to arrive at Hartsfield Jackson by 4:30 any time we flew to our destination, rather than endured hours in our not-so-mini-van.
I took advantage of my cheap traveling expenses in college and post-college. I flew to my sister's destination wedding for just over $200.
So when it came time for me to book a ticket to meet my newest nephew, I just couldn't bite the bullet to pay for a guaranteed seat: even though I was traveling with the Bear for the first time. Hey–I like to live life on the wild side; especially when that side only costs $60 for a round-trip ticket to Missouri. (Totally worth the small added stress of standby travel)
I learned a lot about my first flight with my little man. Here are some tips for your future flight with your little one.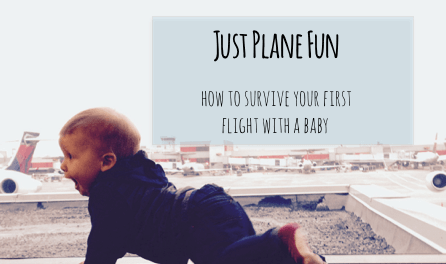 1. Pick non-peak travel days for your trip (i f possible). This was huge for us. We flew out on a Wednesday morning and flew home on Saturday morning at 6 a.m. A'int nobody got time for a flight on Saturday morning at 6 a.m., so we made it out just fine.
So, I get that most people won't travel with a standby ticket, but I will tell you that our non-peak day travel was so much less stressful for us to make it through the airport to the gate. We moved efficiently through the security lines, thanks in part to some casual travelers, who didn't seem to be in a hurry to go anywhere. Non-peak days are days that business travelers (like my husband once was) don't typically travel. Try to avoid the Monday morning rush and Thursday or Friday evening flights. Most of these flights will be packed with people who travel for a living and definitely don't have time to help you and your little angel. Many of these travelers just want to be home with their little angels.
2. Pack efficiently. There are so many tutorials on Pinterest detailing what to pack and how to pack efficiently. Girlfriend over at The Everyday Minimalist packed a carryon for six weeks in Europe. If she can make that many outfits from a carry-on suitcase, so can you. Let's be real, you don't need all the clothes you pack. That is unless you've planned your outfits and packed clothes in the same color family so you can mix and match. B and I were in the same carry-on suitcase and I packed the diaper bag with essentials. You'll be pushing enough through the airport without too many bags. The single suitcase was my saving grace.
3. Clip the carseat into the stroller and put the base in the basket below. I didn't know what I was going to do with the stroller, the carseat and the base until I asked my friend. I took the carseat out of the stroller months ago, but B didn't seem to mind rolling around in the carseat. It made walking through the airport much, much easier. I suppose when we get the big carseat, it won't be so easy, but putting the base below and checking all three pieces at the gate made much more sense than trying to pack in our carry-on.
4. Have a sippy cup or bottle for take off and landing. I'd heard this from a few friends. Here's what you probably shouldn't do. Don't keep the sippy cup closed for takeoff and open mid-flight. On our second flight, I happened to open the Lollacup and the pressure made the liquid spray all over the ceiling. Whoops.
Having something to drink will minimize the pressure on baby's little ears during take off and landing. It may also reduce the stress of flying as formula/breastmilk is comforting for your little one.
5. Bring plenty of snacks. The little Bear ate his body weight in wafers, crackers, animal cookies, and puffs. He didn't stop snacking until we landed. It kept him super happy throughout the flight.
6. Charge your iPad and have a movie ready as well as a few small toys. You probably won't be able to hear anything other than the engine, but the moving pictures alone will keep your little one entertained. B had a board book, remote control, and his MyPhone and it kept him entertained. You don't need too much because there is a lot for your little one to see on their first flight.
7. Accept the kindness of strangers. There were so many people willing to help me get everything through security and onto the plane. People want to help you; let them. Don't be afraid to admit that you can't do it all.
8. Relax; you're not inconveniencing anyone…and if you are, they'll get over it shortly. Most people know that you're juggling a lot; especially if you're traveling without your partner. No one is upset with you. And if they are upset, they likely know it is their issue, and not yours. This is the one time in your life when you have an excuse to take your time. Don't worry about anyone else; consider their needs, but you've got a few other balls in the air than they do.
9. Tack on an additional 30 minutes to get through security. This is helpful for you to maintain your sanity…and potentially grab an extra cup of coffee before you take off. You've earned that second cup, after all.