Three a.m. and I awoke with one thought on my mind: it is time to find out if I am expecting.
There are few coherent words, but many questions that accompany the sixty seconds to follow taking an at-home pregnancy test. Is it positive? Is it negative? What will I do if it is negative? What kind of mother will I be? Will maternal instincts kick in? Will I enjoy pregnancy? If I am pregnant, will it be a boy or a girl?
One line shows up strong….and wait…is that a second line? Is it positive? Am I having a baby? I took pictures of the test to be sure it wasn't the haze of the early morning that was deceiving me.
I went back to sleep and awoke three hours later. I took a second test just in case. This time there was no mistaking a digital reading of, "pregnant." It was official. Our first child was on the way.
I will always remember that early morning and the days preceding it. Every moment I wondered if I would get a chance to see those two little pink lines. It is exciting and terrifying all at once. I think about the process of trying to conceive (TTC) often as my best friend is still in the throws of attempting to have her own child. I remember the anxiety I felt in telling her that I was expecting, especially when I knew that her journey to biological children was not nearly as easy as mine. My fears turned to joy as I experienced her warm and genuine excitement for our baby to be. I know I have true friendship in Hilary, which is truly rare and beautiful.
I asked her to guest post about her experience in TTC for a few reasons. First, she is an amazing writer with an incredible heart. She may be the most relatable person that I know. Her heart is pure and I believe that she can help many women who find themselves on the same journey. I'll let her words tell the rest of the story.
"TTC and other things that will make you lose your mind"
*note: Thanks Bekah for giving me the opportunity to guest post today! You know how hard it is for me to put things out there; hopefully this is a better way to get back to writing!! You are amazing!!
I don't know how else to say this but to put it simply: Last summer was probably the hardest time of my life. I was trying to finish my Masters degree, and I was also trying to make a baby (both against seemingly impossible odds). I unpacked a lovely care package full of fertility medicines and embarked on a journey that I am still on today. If are having difficulty trying to conceive (TTC) or utilized any assistive reproductive technology (ART); you know that what starts out as bliss at the thought of making a baby quickly turns into… (Insert negative metaphor here)! So many things ran through my mind when we payed the largest chunk of the thousands it cost to begin our IVF treatment: "What if this doesn't work and I never have my own baby?" "What if this works and I am the worst mom ever?!" "What if it works and I have a miscarriage?" "What kind of birth plan do I want?" "What would I name a boy/girl?" "What if I have twins? "What if my embryos multiply and I have quadruplets?" "What if the issue turns out to be me?" YES, I seriously wondered all of this at once). Hand in hand with the most patient husband I could ask for, we began our journey. I had thirteen eggs retrieved. 12 fertilized.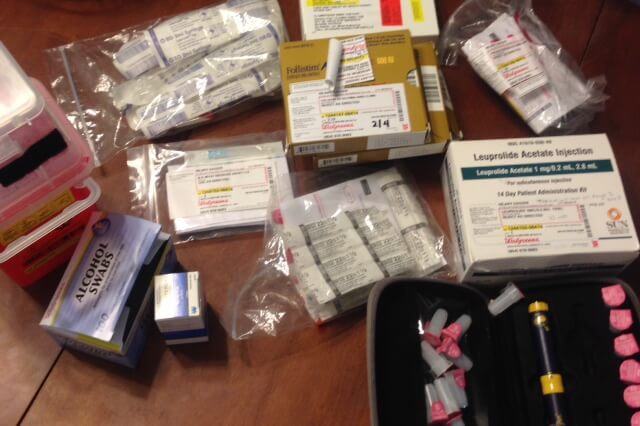 3 of the 12 made it past day 3. 2 of the 3 were implanted, and the last was frozen for later use. Ron was incredible throughout the entire process. He stayed calm and reminded me that there was no point in worrying about things over which I had no control. We prayed and hoped that after ten days we would get a positive result. My sister in love Alyssa and my goddaughter were with me when I found out the procedure didn't work. She wouldn't let me go to get blood work done by myself (thank goodness). Four hours later I sat numb as the nurse told me over the phone that the pregnancy test was negative.
Neither of the 2 embryos "stuck." I had known Alyssa for 10 years, and it was the first time she had ever seen me cry. My family and friends were incredibly supportive during this difficult time. My parents, sister, nephews and cousin gave me the best hugs during a much needed family vacation. My brother in law Mike kept me laughing. My best friends since fourth grade came to see me the month following (you know one of them very well, Mrs. Bekah Carrington :)) and I knew I was so lucky for all of the amazing people in my life. In fact, when Bekah came to visit, it was the weekend I found out I would be honorary Aunt Hilary for Bennett!!! I saw a glimmer of hope, as I do each time one of my dear friends or family members is blessed with a miracle!
The disappointment and pain were great, but it eventually subsided being so busy with student teaching, finishing school, and life in general. I pray each day that a baby is God's will for us when it is time for the next treatment. I don't ask for attention or prayers often, but when I do, it is because I really want a baby (Sorry I'm not sorry for the dos Equis reference)! 1 embryo remains frozen for our next treatment. I am full of hope for the future because God is in charge, not me. I am praying for all of you out there too, that your faith is not shaken when things don't go according to your plan. It is always His plan, and that is something I remind myself of on a daily basis.