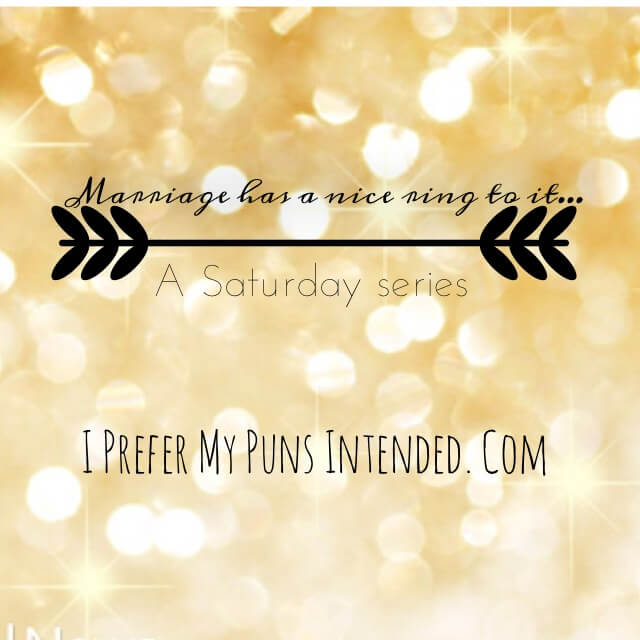 This Saturday morning, while my stuffy little boy took his morning nap, I had a strange epiphany. I was sitting alone while my husband slept in; taking in the glory of this rainy Georgia morning; it is rare to enjoy alone time when you're a SAHM, but it does happen. I watched the raindrops fall in droves and cuddled under little Bear's stroller blanket. It is small, but there is something much warmer about cuddling under his blanket. I feel strangely calm despite the fact that I have already changed three times due to my title one's little tummy bug.
As I flip through the channels, I see the title "112 Weddings" and I cannot help myself. After all, I love wedding shows. Say Yes to the Dress, Four Weddings, David Tutera's Unveiled: you name it, I love it.
Only, this documentary wasn't about the wedding, necessarily. It was about marriage. It was a re-visiting of a videographer's favorite couples and examining what it takes for married couples to remain married, and what it took for some married couples to fall apart. I was instantly captivated.
What is it about our culture that makes us want to praise courtship, and ignore the challenges of marriage all together? We do not focus on the meaning of the word, marriage; unless we think about it as a sentence: pun intended. Hollywood has made a business out of using the painfully beautiful challenges that we navigate in marriage as a punchline. Why is it that we see sex scenes in romantic comedies between unmarried singles? Do you remember the last movie that painted a married couple as a passionate love affair? I don't. After all, there is something so…dull…about two people that choose to love each other every single day, despite any and everything that comes their way. For better or for worse, movies do a beautiful job of ending love stories, as filmmaker Doug Block would say, "triumphantly on the wedding day." And why not? It is a beautiful day and a symbolic representation of the couple's commitment to one another.
It only took me about five minutes into the show to realize that, as I have made much ado of my new role as a mommy, I haven't written much about my role as a wife. The excitement of becoming a new parent baits you into finding your identity simply as a mommy. But I wasn't always a mommy. I was a wife first. As I reflect on the fact that I can change my clothing three times in an hour and a half, I cannot change my spouse. No matter what messes come our way, I realize I would not want to change my spouse.
I am well aware that I am new to marriage (only three years in), and I know that we have so much more life to experience. This does not change the fact that when I said my vows, I meant them.
Steven and I opted for traditional vows for a few reasons. First and foremost, I wanted to make promises to each other. Sometimes, not all the time, personalized vows can be wonderful declarations of love and affection, without any promises for the future. My declaration was reserved for a personal card before the ceremony. Even then, admittedly, I made marriage metaphors to distinguish myself apart from my beloved Georgia sports teams, promising not to "choke" when the stakes were high. I thought that was important.
Second, I am often trapped in a glass case of emotion. I have a supremely tender heart and I knew if I read how much I loved him aloud, in front of the people we love the most, I was sure to shed a few tears and have hay fever to follow.
"Marriage has a nice ring to it" will take our traditional vows and dissect them according to what they have meant in our life together.
The first, and perhaps most consistent line of traditional vows:
"I _______ take you _______ to be my lawfully wedded husband/wife."
Certainly, as a writer, I could take that line in stride as it doesn't seem to have any symbolic significance in the institution of marriage. It is simply the uttering of each others' names for the purposes of the ceremony, right?
This line seems trivial; a simple introduction to the good stuff. At least, that is what most people assume.
Upon a closer view of this line, you'll see that it is so deeply central to the institution of marriage. Why? It suggests that you are two imperfect people; taking each other as you are; vowing to love and respect each other for the rest of your lives.
In the documentary, there were plenty of interviews of couples who had remained married for a few years. One couple stood out to me: Danielle and Adam.
Doug Block summarizes their story as this:
Struggling with severe depression that has only worsened with the birth of the couple's child, Danielle wonders "if this [marriage] was the best choice for Adam." Her husband is grateful for their marriage, insisting, "I wouldn't want to do this with anybody else."
Before I begin dissecting Danielle and Adam, I must make a few assertions. First, mental illness is real and it is devastating. I have personally experienced loss because of mental illness; it is not something that one can just "get over." Like marriage, you have to choose to make strides toward healing. Second, I am not suggesting that Danielle could just 'get over' her depression. Watching the two of them interacting during their interview was painful; seemingly Adam doted over Danielle, and Danielle was self-loathing. It was so difficult to watch two people see the same person so differently.
I suppose that is why their story was so deeply tragic to me. Somewhere along the way, Danielle lost herself in her depression. Her sadness replaced her identity.
The first line to traditional vows is "I." This suggests that you bring all of you: the best and the worst into a marriage. You acknowledge that your spouse is bringing the same. Still, in that moment, you look into each others' eyes and know that you are both valuable and respectable partners. Steven and I chose to marry each other. In order to maintain a healthy marriage, I cannot lose sight that I am a human being who is worthy of unconditional love: no matter what.
I see so many people, women in particular, who believe that self-loathing is more noble than receiving this unconditional love. We downplay our spouse's compliments and instead suggest that we are not pretty enough, smart enough, thin enough, tall enough, short enough, curvy enough, creative enough, modest enough, calm enough, thoughtful enough…fill in the blank. We may think we are being humble when we make these assertions. After all, Danielle wonders if marriage was the right choice because she questions whether or not it was the "right choice for Adam." Sounds humble, right?
It is not. If a spouse does not love himself or herself, he or she has lost the battle to maintain the first line of those sacred marriage vows. That partner has lost their identity in their own self-pity. If you are a person of faith, self-pity is actually satanic, and closely aligned with arrogance. You make your flaws the gods of your life and this is extremely dangerous to a person; and especially to a marriage.
I do not pretend to know everything about marriage, but I do know that maintaining a personal identity has been a key ingredient to this recipe for a successful marriage. Before I was a mommy, I was a wife. Before I was a wife, I was just me: no beautiful titles like, "Steven's wife," or "Bennett's mommy." I do not write this to suggest that one shouldn't hold these as an extremely valuable part of our identity. Instead, in my experience, I've had to reconcile that they are a huge part of me, but not all of me. In order to keep a healthy marriage, I have to nourish my faith, tender heart, loving spirit, and wit. These are my personal qualities that are most important to me. These are the things that my husband fell in love with. Ironically enough, if I neglect the idea that I am a complete person outside of marriage, then my marriage is doomed to failure.
After all, no one person can fulfill everything that you need in order to be happy. That is far too much pressure to put on a marriage. No one can make you happy unless you are happy in yourself and contented with everything that you are. For me, that happiness is refined through my faith. It doesn't matter if I put on weight or lose it; I have a job or do not have a job; I am worthy of the love that Steven pledged to me on our wedding day, just as he is worthy of mine.
Next week, I am going to try to tackle "I vow to love you and respect you all of the days of our life." My hunch is that the content will be warmer than my son's stroller blanket…