Oh, hey Friday! Little Bear, my husband, and I are gearing up for a weekend of fun and football in our house. This really is the best time of year!
Things have been a bit heavy here on the blog this week; my attempts at discussing the issue of racism as well as my remembrance of 9/11, have become two posts that were the most taxing to publish. I need a post that is just for fun, so this is my attempt to lighten things up a bit. I've said it before and I'll say it again, cute, smiling baby pictures make everything better: e specially photos in which my son is impeccably dressed.
Little Bear dresses better than I do; seriously. I wrote a post a few weeks ago about the 10 must have fashion pieces for the fall. I ordered much of it, and returned much of it. Instead of shopping for myself, I ended up where I usually do: on various baby clothing websites. I'm not certain if I'm just at the point where I can't pull off "trendy" anymore, but I have a feeling that fashion will take a backseat to t-shirts, fitted jeans, and open button up shirts. This mommy uniform should come standard after childbirth. There is nothing that beats practicality as a mom: nothing.
There is also a thrill that comes along with dressing a little one. I love that I have the chance to act as my son's personal stylist. It is fun to know that someone looks good when we leave the house. I digress.
Little Bear and I stumbled upon The Little Nest while we were out grocery shopping. I walked out of the grocery store, my little babe in the wrap, and we…I mean…I couldn't help but notice Jennifer's little display on the lawn adjacent to the store. She had a variety of onesies and hand painted age blocks for purchase. I knew I wanted to work out a review/giveaway with the owner because I had to get the word out about her products. Here is a short, but sweet review of The Little Nest and five reasons you've been missing out by not shopping here…
1. The Little Nest will make your little one look like a rockstar. Jennifer takes great care in her designing creative and artistic onesies and age blocks. Truthfully, I haven't seen anything like her work. Check out the awesome onesie she sent us in the mail for review…and my son's sweet face too.
After she hand-dyes the organic Gerber onesie, she stitches high-quality fabric over the comfortable cotton. Little Bear loved playing around in his custom outfit.
Here are a few others that she has sold: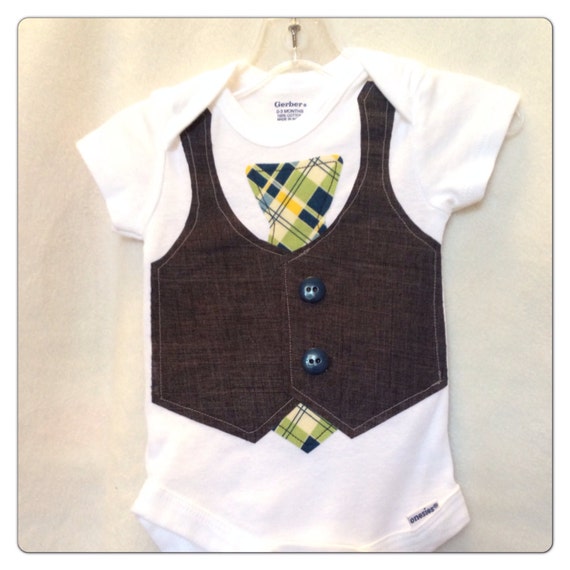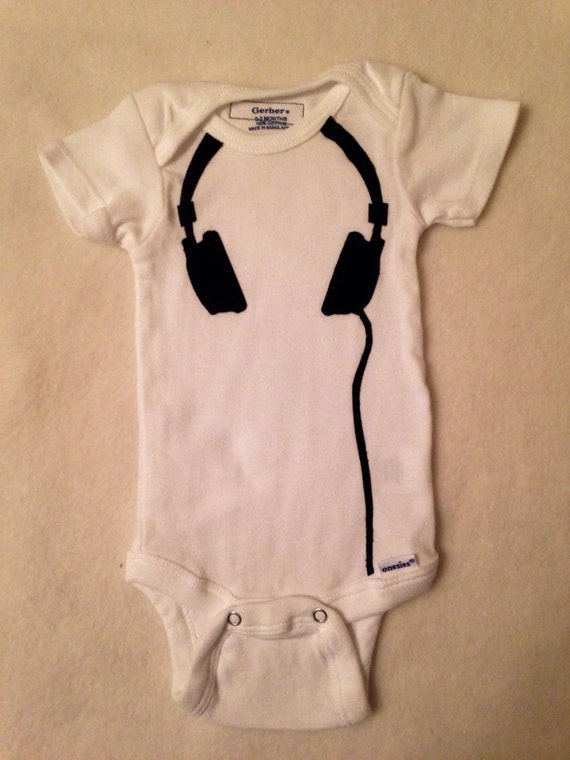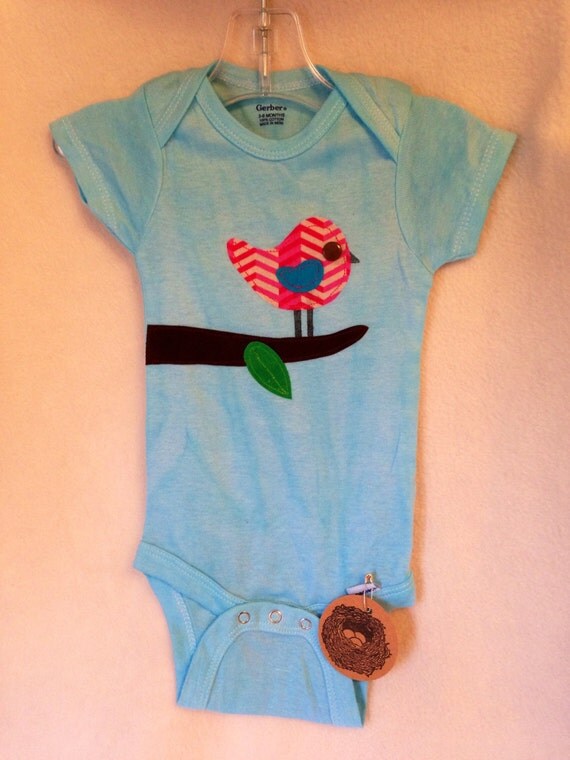 2. The one-of-a-kind onesies can take you from the front porch to the playground and dinner out with your little one…without an outfit change. Little bear and I made it the entire day without an outfit change. For all of the new parents out there, you know how big of an accomplishment this is. Although I am speaking of a no-accident kind of day (minimal spit-up and drool, no diaper leaks), I am also talking about the fact that we made it all over the city without having to make a quick outfit change. We visited an awesome new friend and her little girl, went swinging in the park, and playing in our house and didn't have to change at all. We just layered and went about our day. The onesies are perfect for whatever occasion! Here is proof:
3. You can take documented daily, weekly, or monthly photographs with her beautiful, handmade age blocks. Y'all, I really wish I would've known about Jennifer's shop before Little Bear was born. You can take daily, weekly, or monthly documented photos with these beauties. I love this idea! Here are a few of her selections live in her shop now (if you look below, you have a chance to WIN these beauties!)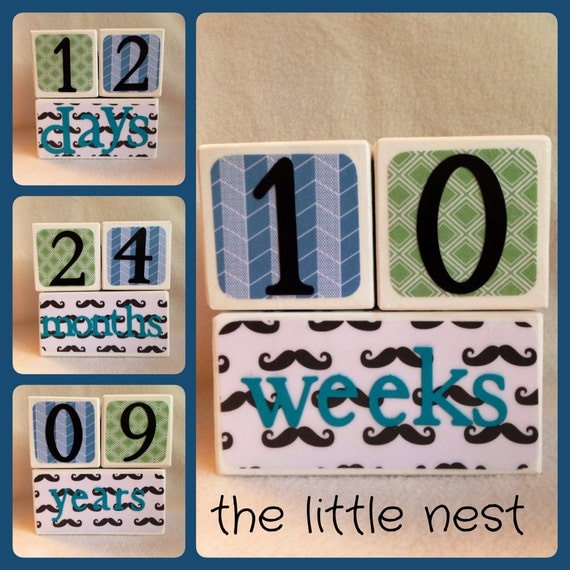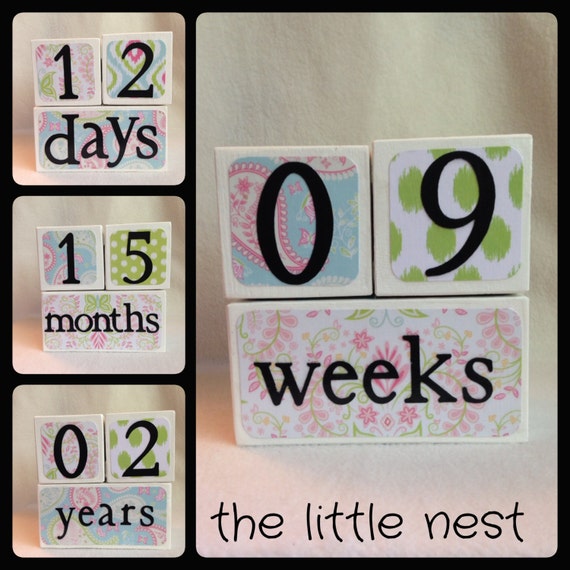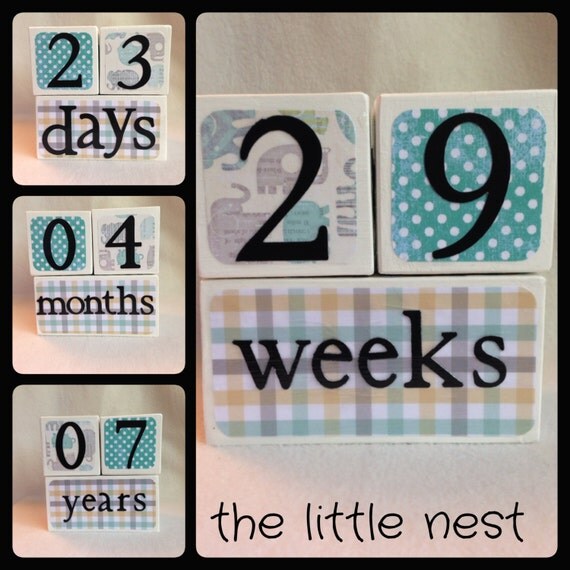 4. The owner of The Little Nest is honest and helpful. While we were coordinating the giveaway, Jennifer was so helpful and honest. I told her Little Bear's weight and current size, and she was quick to tell me the size that she thought I should get (and it wasn't the size I thought I should order). She is in the process of switching to a different type of onesie, and she works harder than most to ensure that you get the most unique and special product possible.
5. Your child should have a few special things just for him/her, and the Little Nest can make sure that you get unique pieces for your little one. Jennifer is amenable to custom orders to be sure that you are getting something that you can keep and remember in the years to come when your little one is not so little anymore.
Like what you see? Enter the giveaway and be sure to check out The Little Nest on Etsy and Facebook!