So excited for Tammy of Blithe, a blog, to guest post today. She is such a gifted writer and she is so incredibly inspiring. I hope you love her words as much as I do!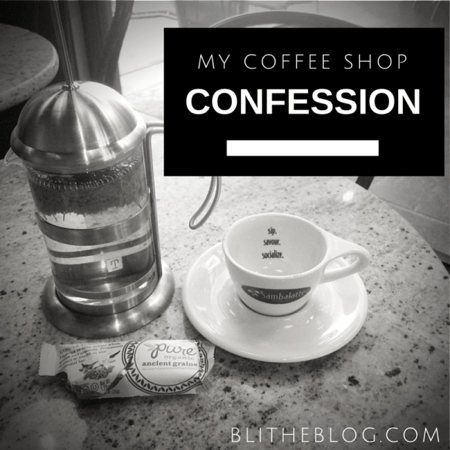 My Coffee Shop Confession
It was over the best (although semi-cold) latte ever and a laptop that wouldn't stay charged (unless it was plugged in at all times) that I confessed to a random stranger one of the greatest dreams of my heart.
I wanted to be a writer.
It was a cold night in January, maybe it was February, and my junior year of college. I was sitting in my favorite coffee shop in Tulsa, Oklahoma which was across from my school and near the river. There weren't many people there that night. I don't remember why. Maybe it was too cold. Or maybe it was a Sunday night and people were trying to make better use of their time than simply studying at that point.
But there I sat, in a round little table next to the wall so I could be near an outlet for that old laptop. I didn't mind the quiet shop. I was slowly working on my latte and admiring the leaf coffee art that floated in my giant white mug. The coffee shop had this cool artsy-vibe going on yet in a quaint way. There was a huge river-rock fireplace casting a glow from the fire and recreated masterpieces on the wall painted in espresso. The Mona Lisa was staring at me while sipping an espresso. There were scuffs on the hardwood floors and the over-sized brown leather sofas were well-worn. But it was like a comfortable shoe – it fit me and my literary dreams perfectly.
A bit of writer's block was covering my mind as I stared at the screen and imagined what scene I should write out next. I was in the middle of constructing a children's short story for my writing class… It was due tomorrow. And I was stuck as what to do with my little girl who was currently in the midst of meeting the Queen of England. Seriously.
But I felt very professional. I was writing. I was a writer… Who was finally taking a step towards her dream. And I hadn't even told anyone. Everyone knew I had already gone through like 5 college majors (including pre-med) as I battled with the direction of my future. And one day, while I was walking through campus, I did a detour at the gardens and turned right back around to the registrar's office to change my major, one final time, to English Literature. I told everyone I would probably just teach. But inside my heart the secret of wanting to be a writer was coming to the surface. The little girl who devoured books daily and wrote stories about a girl living on a horse farm in her yellow journal was finally demanding her way. You want to be a writer. It's time to try.
The writer's block was complicating my life plan already though; how I could write the next great American novel if I couldn't compose 3 pages for little Lizzie and the Queen? I sighed and popped my ear buds back in. I lost myself in Josh Groban's tenor and the white screen before me. Writer's got to write.
The coffee shop's front door opened with a blast of cold air and I glanced up to see a college kid come in with short, dark hair and a white jacket. I figured he must attend my school, although I had never noticed him before, as I watched him adjust his bag and look around the empty shop. We glanced eyes and I averted them right back to my screen and my work.
Just as Groban belted out "Per Te" I realized there was this figure standing next to me. The college student with his bag. I pulled my ear buds out as he smiled, "Hey do you mind if I sit here with you? I need an outlet."
"Sure," I mumbled as I pulled my laptop closer to me and shoved my now cold latte to the side. He went to work unpacking his bag, pulling out his sweet Mac Air, without a word…. Figuring he wanted to work quietly, I popped Josh Groban back into my ears and quickly reread through what I had. And then felt some anxiety. What I was writing was rubbish and I had only a few hours to finish.
I let out a huge sigh.
Across from me, the guy with the short dark hair smiled at me. Truly smiled with the understanding only a fellow collegiate could have. Turning in reports and work could be brutal. And he got it.
"You okay?" he asked.
A little embarrassed, I smiled back. "Oh sure, just have a little writer's block on a story that is due tomorrow."
He went to the counter to pick up his tea and came back. "What this story all about?"
"Well it's a children's story about a little girl in England who is trying to figure out what day is her actual birthday because she was adopted…" I stopped feeling even more embarrassed as I realize I am about to tell him she meets the Queen. How cliché…
He didn't laugh or mock. He looked intently at me, our eyes lock and he says, "Oh, so you want to be a writer?"
I took a breath in and at that moment the world stopped… Everything seemed hushed and still. All that was there was this circle table with the cold latte and two laptops and this guy I had never met before, I didn't even know his name, asking me if I wanted to be a writer. He didn't realize he just asked me a question I hadn't been able to confess before. Not as an adult anyway. Maybe as a kid who said she wanted to write books the same day she earlier said she wanted to be an actress. But never as an adult. The adult Tammy never confessed she was actually taking the step to follow her dreams.
How long did I hold that breath? It seemed like an eternity as he stared at me. And suddenly I felt bold. Not ashamed or afraid to admit to this stranger what was in my heart.
I exhaled and replied in sure but quiet words, "Yes. I want to be a writer."
"Cool," he replied with a smile and reached to take a sip of tea before he turned his attention back to the laptop.
If ever I've had an Ebenezer moment it was then. It was my past, present and future all rolled into one moment. This stranger didn't know it but that moment he asked that question suddenly made my dream seem tangible. One I have slowly followed since then. One that I am still in the process of… And yet I always remember. Because I can hang my hat on that night as I declared I was a writer.
It was like I had found a piece of ice I wanted to claim as mine and fervently struck my pick in it. I claimed it. It was mine.
And, my friend, I am wondering where you can hang your hat today? What dreams, calling or desires can you stick your pick in and declare it yours?
I feel like we are afraid of dreams. Because what if they are wrong? What if we are missing the real plan for our lives? What if these desires are only my desires and not God given desires?
I can tell you I look back at that night as a reminder this is the area I am going towards in my life. My career or ministry or whatever you call it is to write and maybe speak. And they days I want to question it, God has been my help. My help when my writing proposals were rejected. My help when my blog following wouldn't go up. My help when someone emails me in tears about how they need someone to just hear them and I feel powerless to help them in their trial. My help when someone emails me and declares I truly don't care about what they are going through. My help when I speak to a group of women and totally blow it and I hear that voice say "you aren't cut out for this."
He has been my help.
If I believe this is the calling He has placed in my life than I know He will be my help to complete it.
And I am convinced and sure of this very thing, that He Who began a good work in you will continue until the day of Jesus Christ [right up to the time of His return], developing [that good work] and perfecting and bringing it to full completion in you. – Philippians 1:6 AMP
So, this whole story of my cold-latte-realization-to-a-stranger moment is for one simple thing today: for you to take a deep breath in, to not let fear rob you of your calling, and exhale in the peace that if Christ has given you this dream, He will help you accomplish it.
So get to it my friend. And if you need to get coffee and have me cheer you on, I am there.
BIO:
Tammy Moyle writes about her real-life struggles and joys (as well as her passion for cupcakes, lipgloss and coffee) from her home in Las Vegas, Nevada where she lives with her husband Zac and their 3 kids. She has written pieces for various online magazines and currently blogs way too much about her personal life at Blithe, a blog (blitheblog.com). She also recently started a new community specific to women mentoring women called Becoming. You can follow her along on Facebook or Instagram.