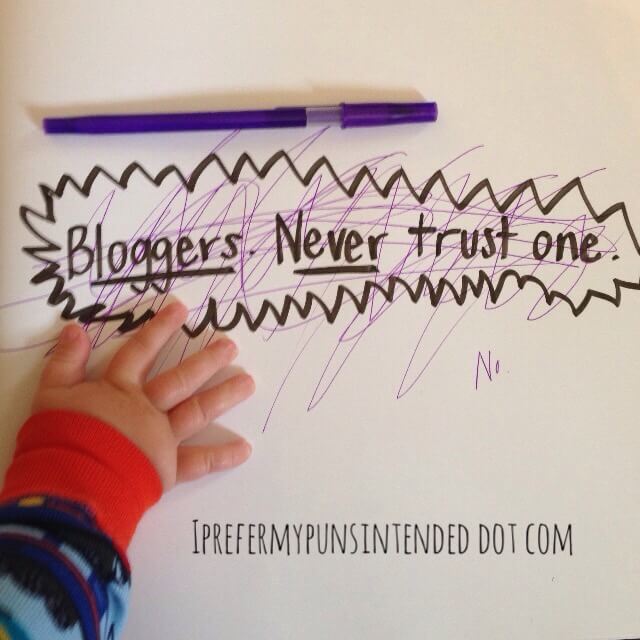 I am not usually one for sweeping generalizations; in fact, I used to make the papers of my former students bleed purple ink if I ever saw statements like,
In today's society, everyone believes that women are more emotional than men.
The horror.
There is so much wrong with that sentence. First, what to which other society is the writer referring? Yesterday's society did not believe that women are more emotional than men? When was yesterday? Are we speaking metaphorically or literally? Is today's society different than tomorrow's society? When does tomorrow begin? It's all very exciting to think about, but assuredly, this is the most thoughtless phrase thrown into an essay ever.
Next, if everyone believes something, then the writer has just insulted my intelligence. If something is universally true, then it doesn't really need to be written out–does it? These two words are the best way to wave the white flag of "teacher required word count."
Lastly, this universal truth that my student has alerted my attention to is simply untrue. Which emotions are we talking about here? I've known some men to be much more emotional than women; their emotions just materialize in anger or aggression. Just because there aren't tears rolling down whiskered faces doesn't mean women are more emotional.
The only other opening sentence that grinds my gears more is the dreaded one word sentence. These make my eye twitch. You've seen them. You've probably written a sentence like this:
Bloggers. Never trust one.
Ugh. This one sends shivers from my fingertips to my toes. I cannot believe I just wrote that. Even if there is a lot of truth in what I was trying to say. (Is it really that much more difficult to write Never trust a blogger? No. It was easier. Death to one word sentences! Unless of course, that word is no.)
I realize the irony in this sweeping generalization; I hate the very principle of it, and yet, I wholeheartedly believe this to be true. Why shouldn't you trust a blogger? Or, more specifically, why shouldn't you trust what I have to say?
I have no idea what I am talking about. I don't know five tips on getting your child to sleep through the night every night. If I did, I wouldn't have spent the better part of two nights ago begging my son to go to sleep.
Just close your eyes. I whispered quietly, calmly, and lovingly.
Please, little guy. Somewhere around 2 a.m., the calm evaporated into desperation; the air was palpable with the humidity of my tears; my overly emotional woman tears.
Please God, let my child sleep.
When that didn't work, somewhere around three a.m., I stuck my head under a pillow and played a Mozart Pandora station to drown out his whines. Sometimes, parenting is about survival. And both of us made it through the night–I count this as a win.
Most of the time, I wing it.
I don't always know what I'm going to write about. Most of the time, I get my content from my mistakes.
I do the guessing game just like every other parent has.
Tired? Hungry? Gas? Teeth? Tantrum for no reason whatsoever? Who knows. But I do know…
My child is different from your child.
I don't know what will calm your little one down. I do know that wiping my little guy's face will send him into a tizzy. I know that throwing him into the air will make him laugh.
Did I learn either of these things from a mommy blog? No.
I learned them from my son. I will never learn what is necessary to be the best mom to my little boy from another mom because they are busy learning from their children; not mine.
All I can offer you is my experience and (sometimes misguided) strong opinions.
As I would caution my students, take care not to believe bloggers who write in absolutes or sweeping generalities. The very idea that one of us has achieved some supernatural understanding of parenting is probably either untrue or laughable. In this age saturated with information, take in what works best for you and know that most bloggers are making it up as we go along.