Today, I'm honored to have a guest post from Lynne of The Sweet Midlife. Lynne has been such a huge supporter of this blog from the very beginning and I always love reading what she has to say. Today, she touches on a topic that has been top of mind for me lately–the never ending to do list and the ever-present struggle between getting things done and choosing your children. Enjoy!
_________________________________________________________________________________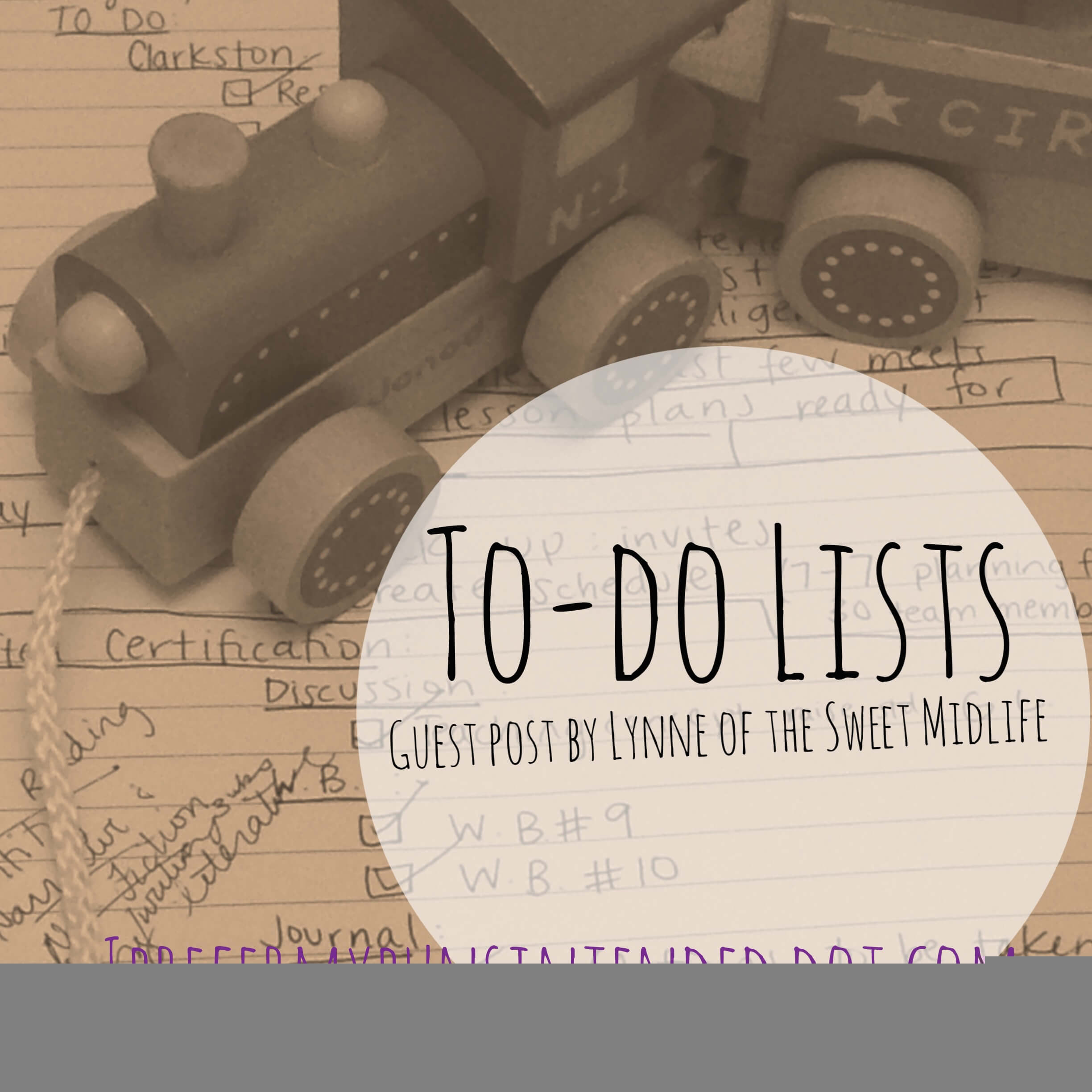 There was a day a few weeks ago when I had a big "to-do" list. Well, actually, there is always stuff that I need to do. This was just a day when I had actually thought about what those things were, and had enough time to organize them into a mental list. There was laundry, and writing a guest blog post (this one), and updating the blog that my sister and I write together, and calling a doctor and switching an appointment. There was also the matter of putting clothes on my toddler son, and convincing him that combing his hair was an act of love and not one of aggression. There was a lot to do. So much to do.
And I went through this list in my head as I was lying on my bed with my son, who had his uncombed head on my torso as he watched some kid show on TV. Now, I am not one of those moms who hates television. I am a big fan of it myself, but I have to admit that it gives my kid something to do while I do the stuff on my list. I count it, YouTube videos, every toy truck imaginable, and the ceiling to floor window next to our front door that my son watches actual trucks and cars out of as allies in my being able to ever complete things.
So, on that morning, I was very proud of myself that I had a plan, and that I was going to execute it. I felt accomplished and whatnot. There was just the matter of extricating myself from under the aforementioned curly-head resting on me. And he who is attached to that head was happily watching whatever show was on, and he would call out random things to me about the show, like "Truck!", and "Mama, it's a dog!", and "Stop it, Curious George", which is what I realized he watching.
And I decided that I didn't want to be extricated.
Because even though I had important stuff to do, nothing was more important, in that moment, then being in THAT moment. To not skim over it, or be half-somewhere else. Nope. Right then, I didn't need to do anything or think about anything other than this boy, and the funny monkey on television, and how precious this boy and this time with him is. Because he is the reason that my husband and I do all of the other stuff anyway.
Sometimes the only thing that you need to do is be where you are.
Lynne Streeter Childress is ½ of the twin sister duo that writes the blog "The Sweet Midlife with Lynne and Leslie". We are honored to share with Bekah and her readers! Lynne is a wife, mom, writer, singer, actor and teaching artist who lives in Maryland with her really cute husband and equally hilarious toddler son.
You can find her on Facebook here.