Today is your day, sweet graduates.
Today is the day you walk across the field, receive your diploma, and move forward into your future without looking back.
I was there on your first day. I remember your first steps into the dirty floor of our mod. I remember your precious, anxious faces as you sat at the little brown box desks that I fought tirelessly to keep straight for your first day.
I'm sure you remember feeling perplexed by the barren landscape of my room. Four very white walls greeted you, along with a teacher you'd never heard of. You could see very clearly into a seasoned and wonderful teacher across the hall; I'm sure you were wishing you'd had her instead.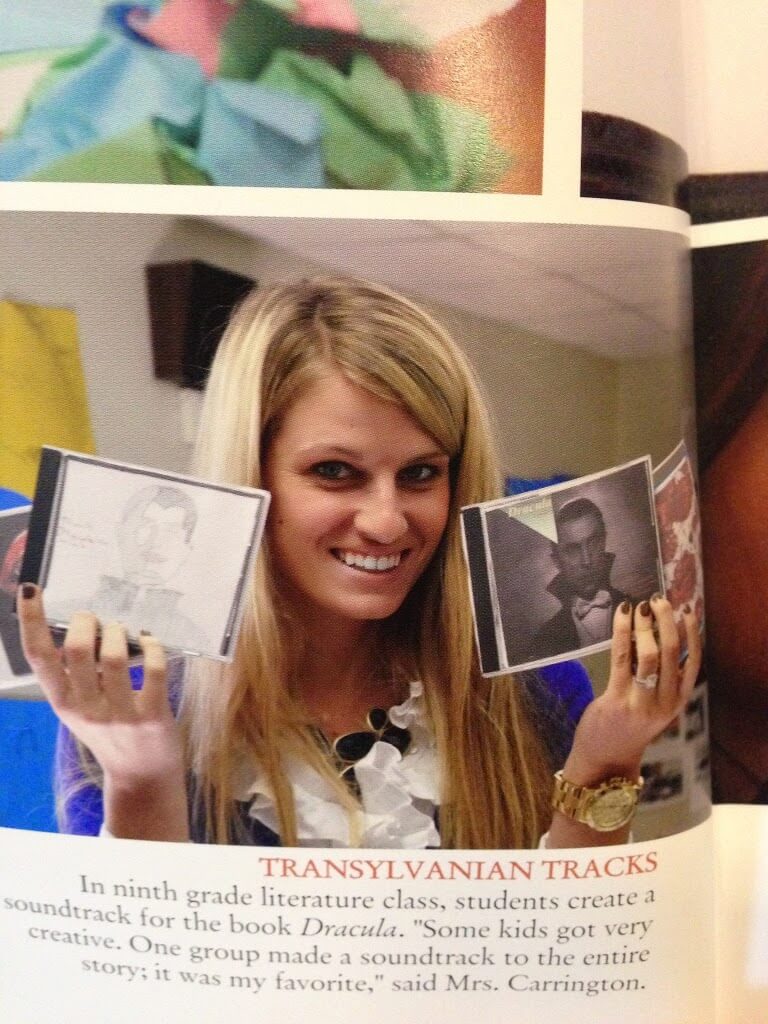 "My walls are blank because I want to fill them with your work; your pictures…I want this classroom to be about us and the good work that we do in here."
That was a big part of the truth. The other part is that I wasn't ready to fork up the money it took to maintain a well decorated classroom. I digress.
It didn't take long before those walls were full. I got knocked on fire safety a few times; not exactly surprising for a brand new teacher to get a few black marks on her progress.
What you didn't know, sweet students, is that once your work filled my walls, my days became brighter. I remember stopping to read your words every morning when I arrived and marvel at your projects every evening before I left. I had so many late nights prepping for you all; I blamed inefficiency and my springtime as a teacher.
What you didn't know was that I prayed for you each and every day; I shed tears, real tears, for your futures long after you left the safety of our ninth grade classroom. Most of those tears were joyful, as I know our world will be better once you share your work with the world.
I mean that sincerely; to each and every one of you; all for very different reasons.
To my geniuses, (and I had quite a few that first year), you have so much wisdom for the rest of us. Your work ethic is impressive, and your wealth of knowledge is enviable. Never give up your quest for the truth; and never stop questioning the information. You will be the leaders of our nation very shortly, so don't forget to listen to the other side. Be sure to challenge your own beliefs ever now and then…it builds the strength of your convictions or shifts them when needed.
To my social activists; never stop fighting for the people who do not have a voice. Remember that social justice begins with you–so be kind even when you don't want to be.
To my socialites; keep making your connections. Never forget the value of a solid sales pitch in business. I believed we called it b.s.ing in class. You all learned from the best; I felt like such a fraud my first year. Still, the working world is all about relationships, and you were made for that. I suppose the whole world was made for that.
To my quiet students; you were never unnoticed in my classroom. I recognized how hard you worked; I saw your need to be accepted, although, often times, that need was silently expressed. Many of you opened up your hearts to me, a truth for which I am forever grateful. Please know that your hearts are valuable; and your voice is valuable. Be sure to share your strengths with those you love.
To the students (and the parents for that matter) who really didn't like me; thank you. I mean this sincerely. I learned so much from my first year of teaching…but the hardest lesson I learned was from you. I learned that it is ok not to be liked by everyone–something that you all should know too. Not everyone will understand you; not everyone will value your motives; not everyone will see why you do the things that you do, or give you a break. Still, it doesn't mean you shouldn't stand firm in your convictions. It doesn't mean you don't have value. And it certainly doesn't mean you should give up. Keep going; keep fighting–take in what you can from the people who doubt you, and purge the rest. You all have taught me the things I could've never learned in graduate school.
To all of my students from my very first year of teaching; I love you (a phrase you tired of hearing from me during your first year of high school, but it is still very true). You are valuable. You are smart and worthy. Never, ever doubt that you have people who are rooting for you all of the time.
Now is your time to decorate the white walls of your future; and don't be afraid if it looks nothing like what you planned…the good stuff comes in the unexpected.