Welcome to my new weekly feature–the weekly menu.
I cannot tell you how long menu planning and grocery list making takes me each week. Its embarrassing. I am not a chef, and take all of my inspiration from the amazing chefs I have at my disposal, thanks to foodie bloggers.
I want to make my blog more friendly for all mamas; especially those who'd admit that a little time saving could go a long way.
Thus, I present what the C family is eating for the week, and a grocery list to accompany said list…to save my busy mamas a bit of time and headache. Let me get the headache for you. 🙂
A few notes:
1. I eat the same thing for breakfast each morning, so I don't 'meal plan' for breakfast. It's always a breakfast sandwich with eggs, cheese on a bagel. I find it keeps me full until lunchtime and I don't snack too much in between.
2. If I do snack, it's berries (strawberries, cherries) or some sort of dark chocolate. I keep both on hand MOST OF THE TIME. Let's be real, a life without chocolate is boring.
3. My lunches are leftovers from dinner. I don't 'meal plan' for lunch.
4. I really only plan 3 dinners. I find that is enough to keep me, my husband, and my son well fed, without too much stocked up in the fridge. It helps cut grocery costs and keeps my budget somewhere between $100-125/week.
5. My husband decided to do the Whole30 diet. I'm not complying with the menu for lunches…or my dinners for that matter (I made chicken tacos for me and gave him some romaine lettuce. #sorryimnotsorry #pregnantgirlsneedcarbsandcheese)
6. This week, I decided to be kind and plan whole30 meals that sounded…filling.
7. Also, La Croix is a staple in our house. If you remember, I quit my "coke" habit a few years ago, and I only drink water…and coffee…because coffee is my favorite time of day.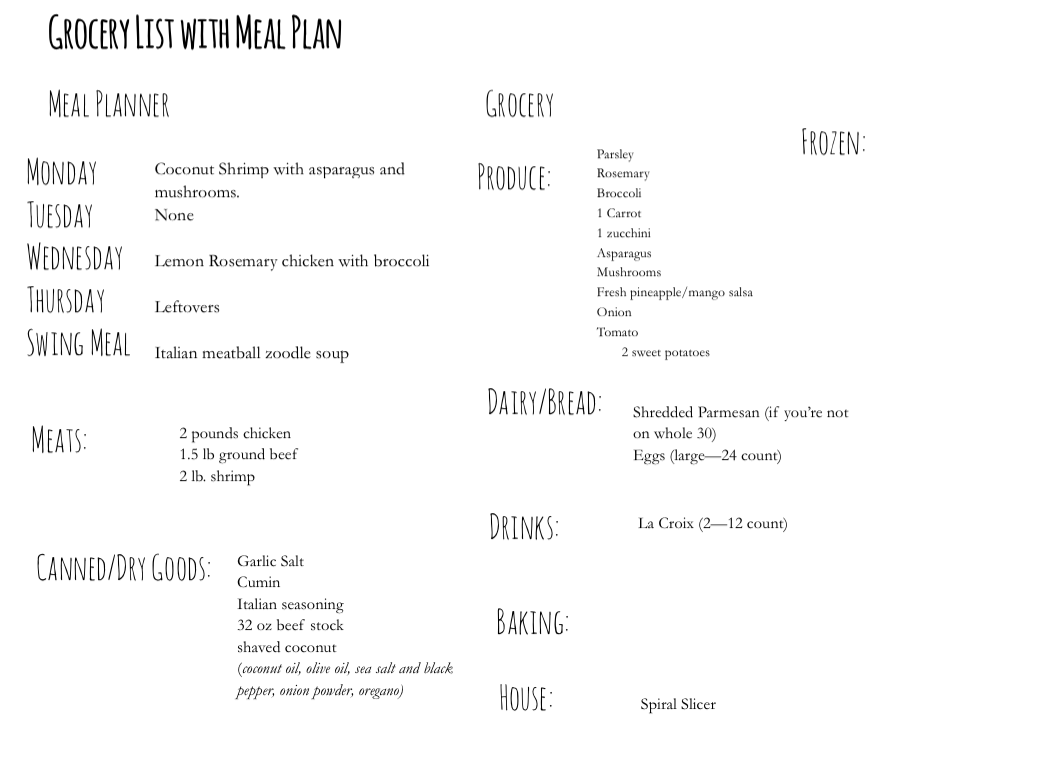 Here is a link to the Coconut shrimp c/o Neal Ink Blog; Rosemary Chicken recipe c/o Bravo for Paleo; and Italian Meatball Zoodle Recipe c/o peace love and low carb.