Here's the truth:
First–I procrastinated with meal planning. Yesterday was a busy…packed…fun…but really difficult day.
Also, I planned this week's meals while chasing bouncy balls down our steep driveway. C'est la vie.
Aaaaaanyway…here's some more truth: I busted my grocery budget last week. Whole30 never really promised a small grocery bill…especially when you're ONLY eating produce and meat (which is the largest portion of a budget).
I digress.
We did eat REALLY well; however. The Coconut shrimp was my favorite meal of the week. I probably could've stretched out the mushrooms, broccoli, and shrimp for two lunches–but I ate the entirety of the leftovers for one lunch. Sorry I'm not sorry.
The rosemary chicken was far too dry. The breasts I used may have been too thin, but the bake time was far too long. Here is my favorite rosemary chicken recipe to make instead. It is much easier and far less clean-up.
Finally, the Italian meatball zoodle soup–yum. Totally worth purchasing the spiral slicer; looking forward to making this again in the fall.
Here's the menu for this week: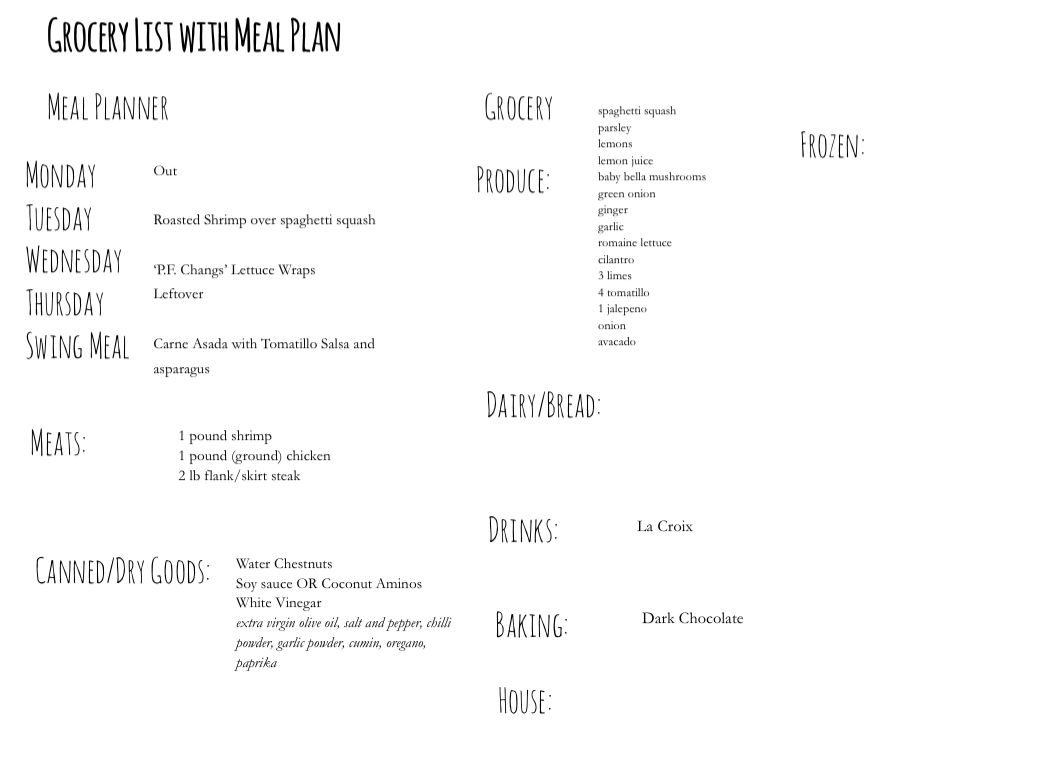 This Whole30 for dinner thing makes me want cheese…over pasta…drowning in butter.
Thus–I'm making this roasted shrimp over spaghetti squash to make due for another week or so. CAN'T WAIT TO EAT ZITI…OR LASAGNA…OR SOMETHING EQUALLY AS CHEESY/PASTA-EY.
The 'P.F. Changs' Chicken lettuce wraps call for ground chicken in the recipe–but I think may just cube the chicken–depending on the budget.
The Carne Asada Steak with Tomatillo Salsa is another from primally inspired…which I've used once or twice over the last month.
I hope there are still one or two of you who procrastinated so you can print and go to the grocery store!