A word of caution; if you are on a budget, best to stay away from last week's menu.
I spent WELL OVER my $100-125 budget. Having said that; however, the Zucchini noodle with bacon and scallops recipe courtesy of meatified was TO DIE FOR. Seriously. I am following her on Instagram for more delish recipes.
The chicken avocado lime soup was good; efficient and easy. I would recommend this soup (without the jalepeno seeds–the broth was a bit too spicy for me…and I like spicy) with the recipe for crockpot chicken tacos c/o Sweet Pea's Kitchen I will share from this week's menu.
The SoCal Burgers were tasty. I modified the recipe to take out the mayo and Greek yogurt (I hate mayo and Greek yogurt didn't fit in with my man's diet), and added an egg to the patties to make them stick. I don't know if these will repeat in my kitchen, but the mushrooms were on fleek. **Disclaimer** I've never used that expression before and I'm not quite sure it fits me.
Whole30 is officially over in our house (cue the Hallelujah choir). I can finally cook the way I like to cook…and using the recipes I love the most.
This week, I'm sharing my three standby recipes
Honey Garlic Salmon c/o the Cooking Jar with Sautéed spinach and sweet potatoes on Monday, Taco Tuesday c/o Sweet Pea's Kitchen, with guacamole (c/o Chipotle), rice and black beans, and my favorite cheesy pasta–baked ziti with basil and spinach c/o SkinnyTaste (Gina is the other love of my life…kidding…kind of…girlfriend understands how to cook light WITH cheese. <3) with Italian Roasted potatoes c/o Cinnamon Spice and Everything Nice on Wednesday.
The Salmon doesn't give us leftovers; I like this for a few reasons. First, I usually only cook two recipes with leftovers. I don't really like a bunch of extra food in the fridge. Still, it is one of the tastiest ways to enjoy salmon. I always serve with sautéed garlic spinach and microwavable sweet potatoes. Super easy and so good.
The Sweet Pea's Kitchen Crockpot Chicken is the BEST. SERIOUSLY. I usually make this every other week–because I can enjoy the leftovers as tacos, quesadillas, OR a taco salad (my personal favorite).
Baked Ziti and Skinny Taste go without saying. I am so excited. Here is your weekly list!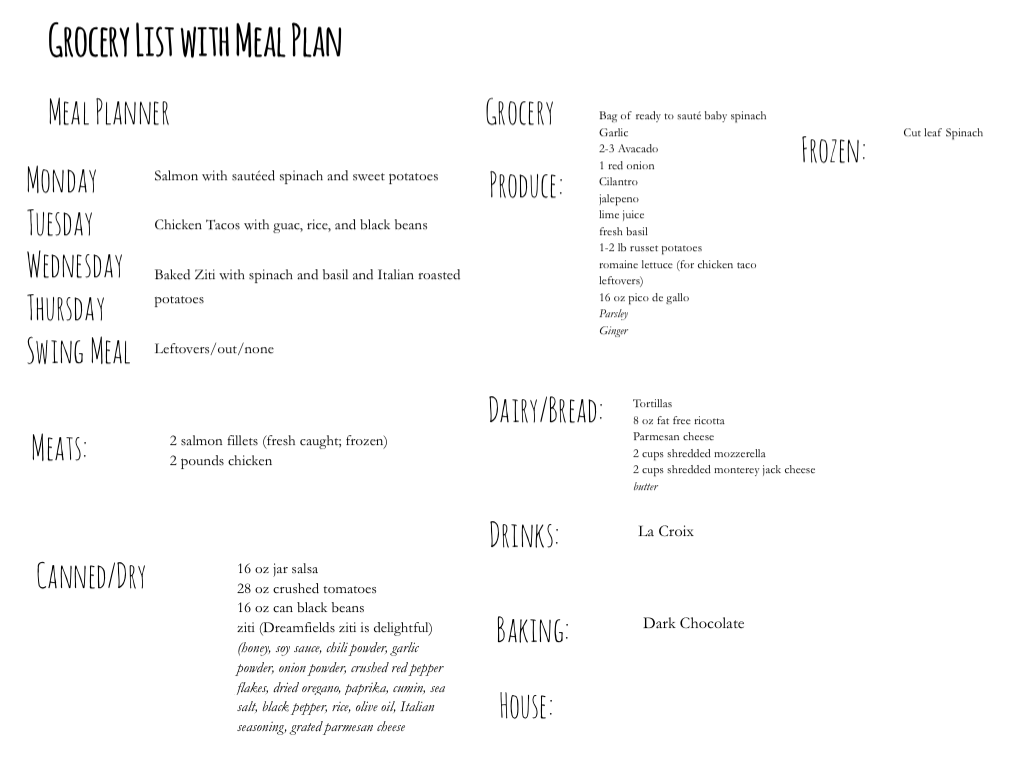 grocery list 8:9